In a previous DIY article I outlined my 3 favorite ways to paint quotes on canvas to create beautiful, personalized pieces of art. I got a great response from the article and lots of positive feedback, so I've decided to write another! If you haven't already, check out my post DIY- 3 Easy Ways to Paint Quotes on Canvas.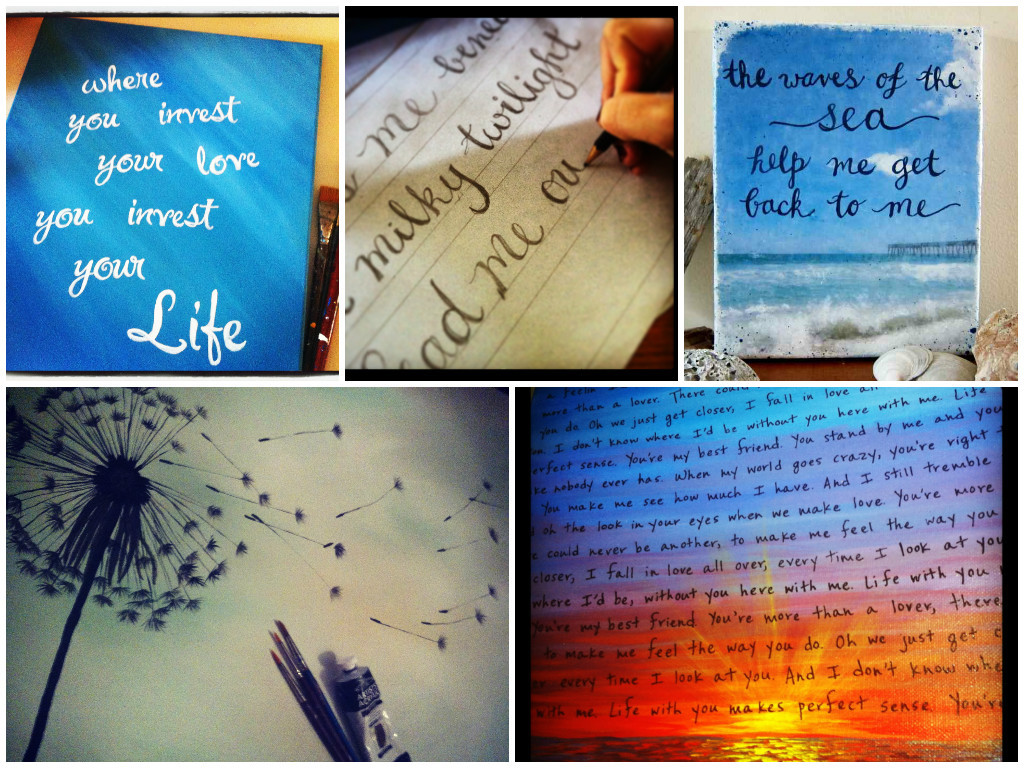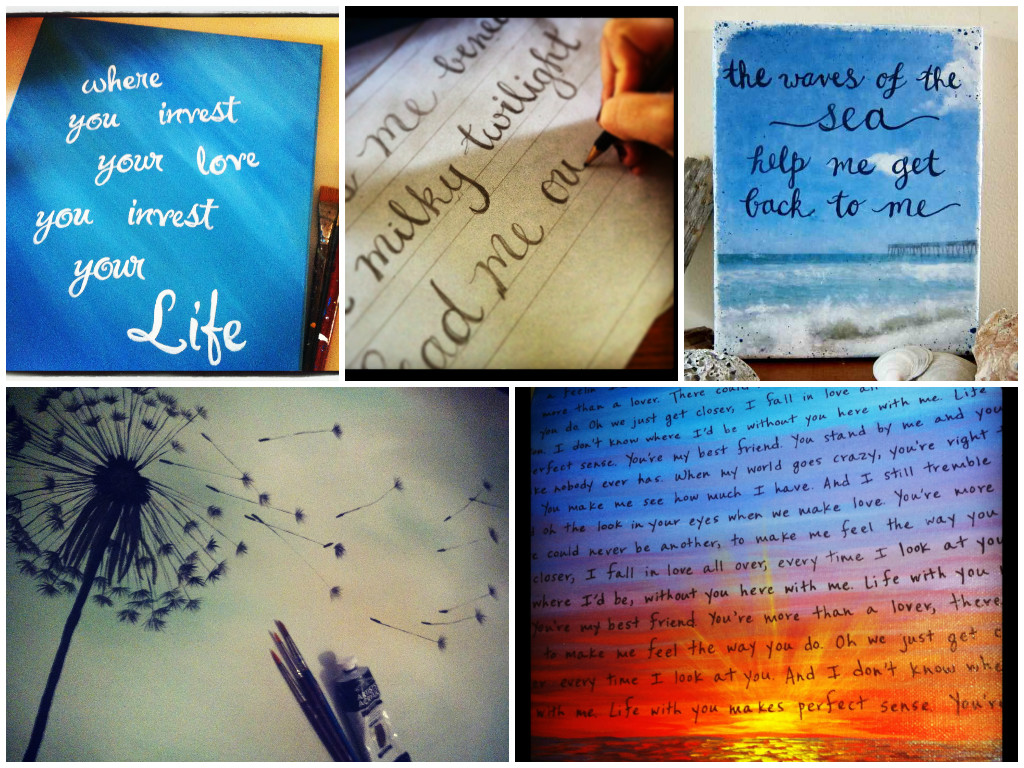 In this article I share 3 more easy ways that you can add your favorite words, quotes, sayings, or lyrics to canvas. To get started, you'll need stretched canvas. I like to use a high quality canvas that is stapled on the back rather than the sides, like this Winsor Newton canvas. Next, you'll need paint. I find that acrylic paint works best because it dries quickly. You can also use spray paint for some of these projects (I like Krylon brand spray paint best). Finally, I recommend using a finishing spray once you're painting is done to protect it. I use Krylon finishing spray which comes in glossy, satin, and matte (satin is my favorite!).
1. Collage
A fool-proof way to place letters onto a canvas is to attach them collage-style. This style provides a clean look for your painting and is great if you don't want to hand paint letters. You can use letters or words from a magazine or pamphlet, print out words, or use letter stickers. You can even cut letters out of interesting materials, like wallpaper samples or maps!
Pros: Easy, adds texture
Cons: Longer dry-time, limited with size, colors, and shapes of lettering
What you need:
Adding a layer of Mod Podge over the letters

Mod Podge (comes in matte or glossy)

A foam brush
Letter stickers or cut outs
How to:
1. Paint your canvas the background color of your choice. Make sure the color contrasts with the colors of your letters. Let it dry completely.
2. Place your letters or words on the canvas and check their placement.
3. Coat the back of each letter with Mod Podge and stick it to the canvas. Layer another coat of Mod Podge on top. It will look like a white mess, but I promise- it will dry clear! Let the canvas dry.
4. Layer another coat of Mod Podge over the letters to seal any edges and let it dry. You may need to do this once more to ensure the edges won't peel up depending on how thick your lettering is.
5. Seal your painting with a finishing spray (optional). The Mod Podge acts like a sealing coat, but I like to use the spray finish at the end to fill in any brush strokes that may be left and make the painting appear more even.

 2. Stickers
In my last DIY I explained one way to use stickers to create lettering on canvas. This technique is a little different- I like to call it "reverse stickering." It gives the canvas a much different look than the other technique, and enables you to create texture and add different colors .
Pros: Simple, creates more texture
Cons: Letters are limited to the size and shape of the stickers
What you'll need:
Vinyl letter stickers (Be sure they don't say permanent. I use these.)
Paint brush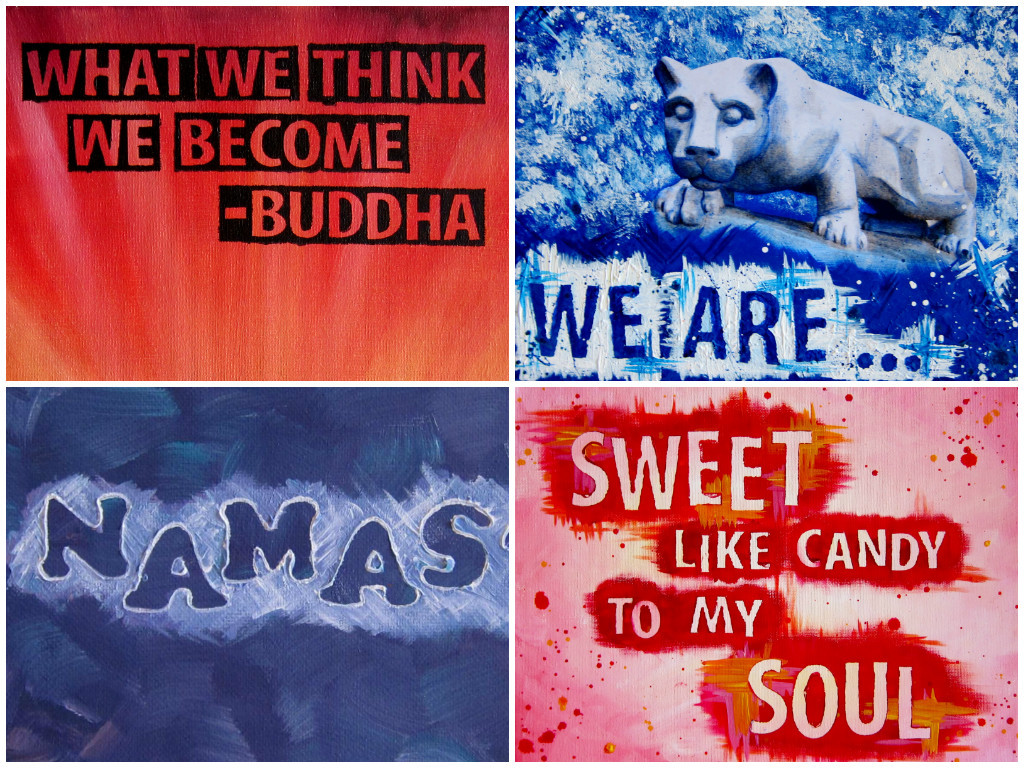 How to do it:
1. Paint the background of your canvas and let it dry.
2. Stick your letter stickers on the canvas.
3. Carefully paint over your letter stickers. Be sure not to use hard brush strokes or you might move the stickers. Don't be afraid to experiment with different directions of your brush strokes and thickness's of your paint! Let your canvas dry.
4. Peel the stickers off the canvas carefully, being sure not to remove any paint. (Tip: you can use an old pair of tweezers to help you remove the stickers).
5. Seal the painting (optional).




3. Paint Markers
Paint pens work well if you enjoy handwriting or calligraphy and want to transfer your words to canvas in your own handwriting. They also works wonderfully if you have a lot of writing or very small print to transfer. If it sounds too intimidating to write directly on your canvas, not to worry– you can sketch your lettering on paper or print words from the computer and transfer it to your canvas.
Pros: Quicker than hand painting letters, more control over the size and placement of lettering
Cons: Less choice with color, easier to mess up!
What you'll need:
A paint marker in the color of your choice (I use Tree House Studio brand markers, which I find at Hobby Lobby and come in a variety of colors and sizes)
Carbon paper and regular paper
A ruler
Tape
A pencil and a ball point pen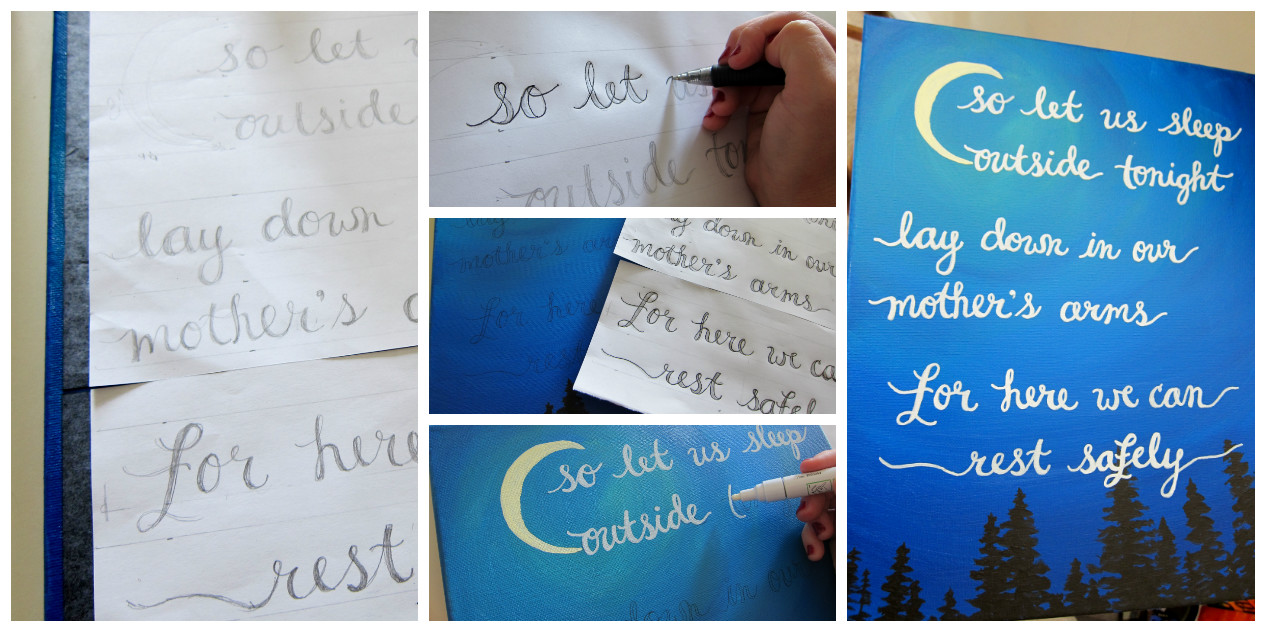 How to do it:
1. Paint your canvas in the background color of your choice and let it dry
2. If you're going to sketch your lettering first, you'll be using the same method I outlined in my last DIY article. Use your ruler to measure the size you want the lettering on the canvas and make appropriate sized lines to guide you on a piece of paper. Draw out your lettering on the paper.
3. Place a piece of carbon paper face down on the canvas, place your paper with your lettering on top, and tape it down. Make sure your tape the paper in the position you'd like the lettering- use a ruler to make sure it's centered.
4. Trace over the letters using a ball point pen, pressing firmly. Untape the paper and carbon paper to reveal your transfer.
3. Using the paint pen, trace over your carbon transfer. If you're using a white paint pen, you may find you'll need two coats over the carbon transfer.
4. Seal the painting (optional).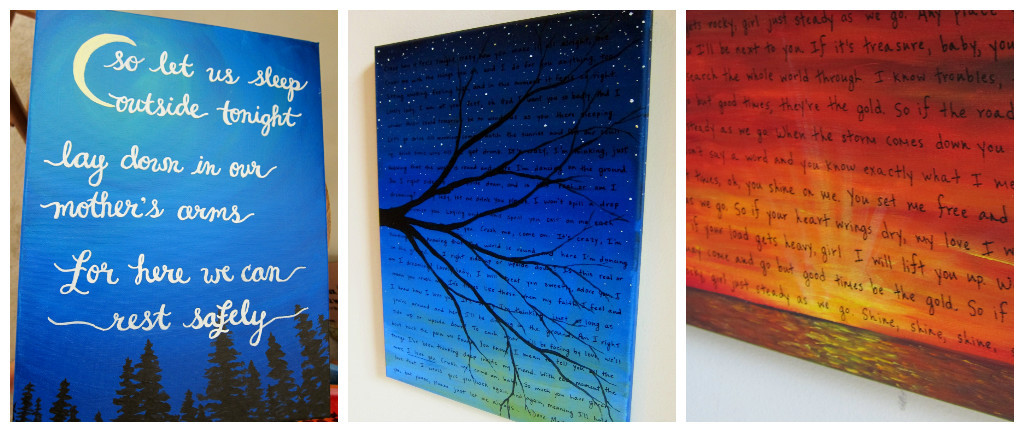 So what do you think of these 3 ways to transfer lettering to canvas? Love them, hate them, can't wait to try them? Leave me a comment and let me know what you think! And please share, like, pin, or post if you enjoyed this DIY!