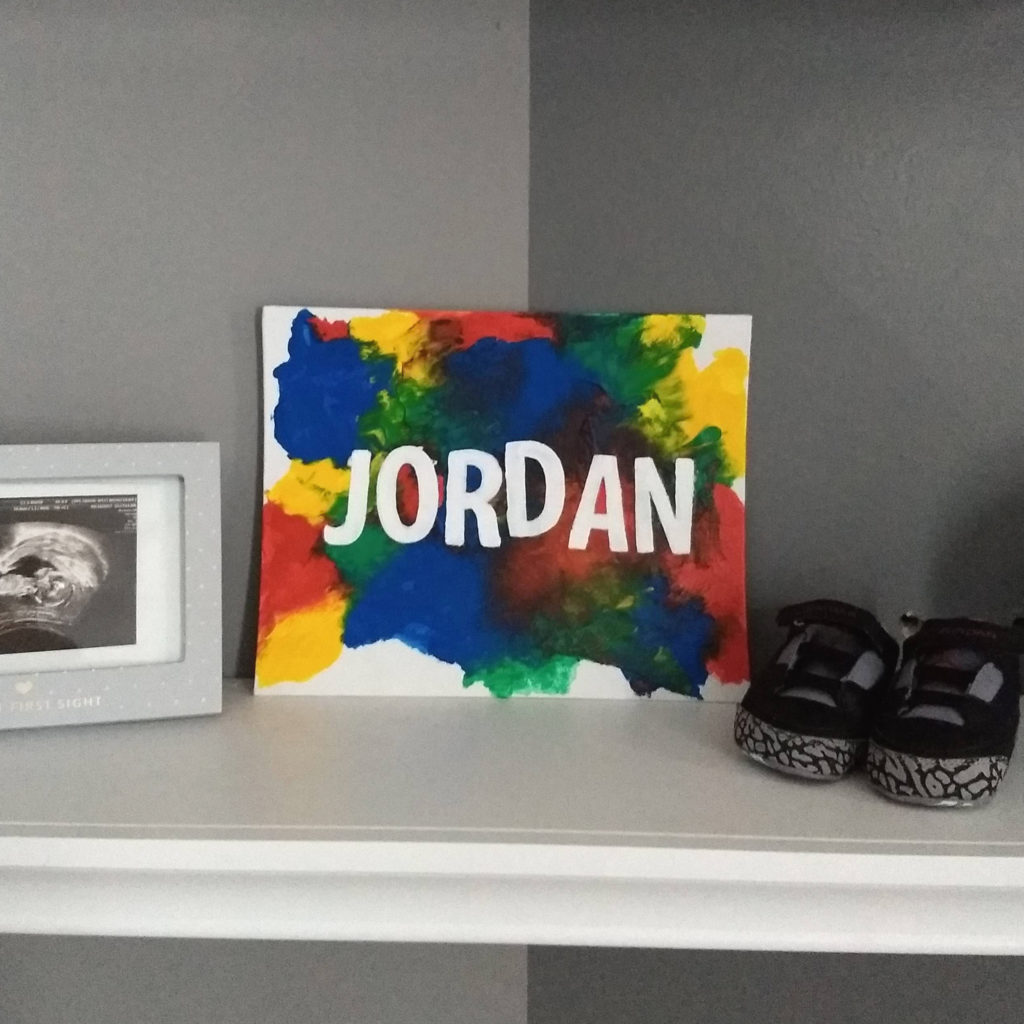 Obviously I love painting and I am itching to get Jordan started on some art projects. But since he's not quite ready to yield a paintbrush yet, we came up with this fun and easy activity. It's mess-free and perfect for younger babies– Jordan was about 8 months old when we worked on this, but as long as baby is sitting up they should have a blast with it!
These paintings make great gifts for grandparents or fun decorations for baby's nursery. The sky's the limit for your little Picasso!
Here's what you'll need:
Prepping the painting
First you need to prepare the canvas for the baby to paint. Decide what you'd like your painting to say and apply your vinyl letter stickers to the canvas. You could do baby's name like I did, "I love you" for a sweet gift, or even their age– get creative! Or leave out the stickers to create an abstract piece of art for the nursery.
I like to use a ruler to measure the middle of the canvas and ensure the stickers are centered and in a straight line. But beware– depending on how aggressive baby is with painting, the stickers may move around a bit (ours did!).
Once you're satisfied with the placement of the stickers, glob on some paint. Make sure your globs are rather thick. Too little paint and there won't be enough for baby to smear and cover the canvas. Too much paint and the paint will be too thick to peel the letters off once it dries. I've found it's better to have too much than too little though! Be sure to spread the colors out evenly, and also think about color mixing here. For instance, putting yellow and blue will result in some nice greens.
Here's what ours looked like before we got started: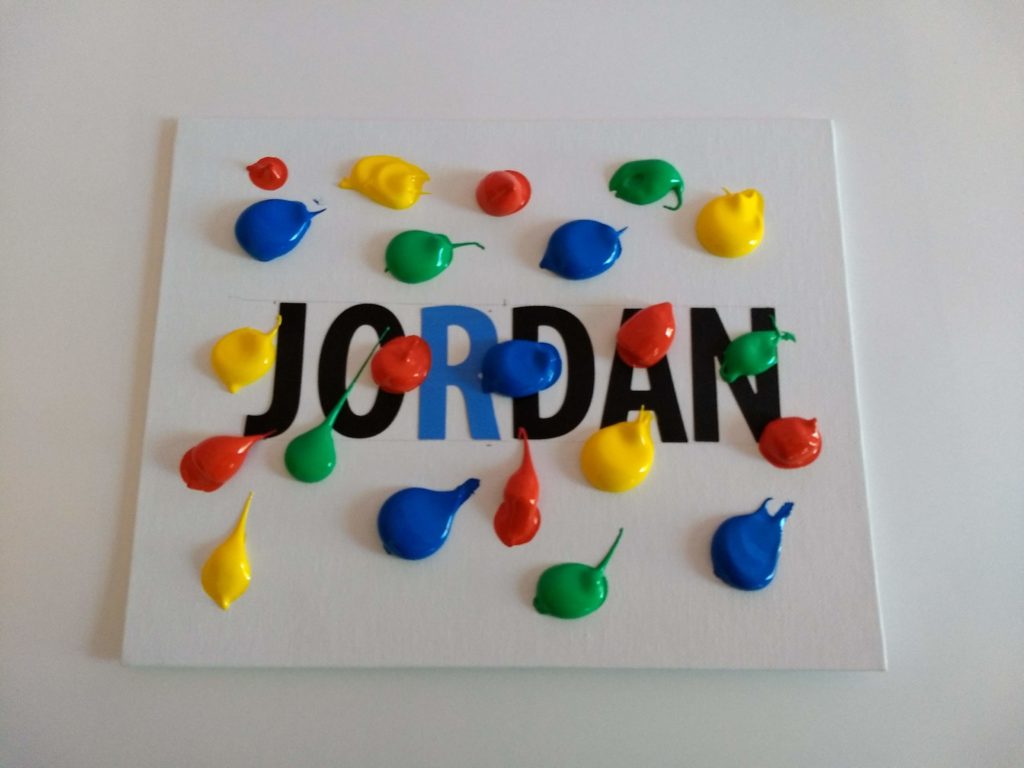 Now wrap the canvas in clear plastic wrap and place it in the freezer bag. The plastic wrap will be helpful once your ready to remove the canvas from the freezer bag!
Time to paint!
Time for the fun part! I've found that Jordan paints best when I place him on the floor in front of the painting, but you could also sit your little one in a high chair. Encourage your baby to mush the paint with their hands. Feet are fun to use too!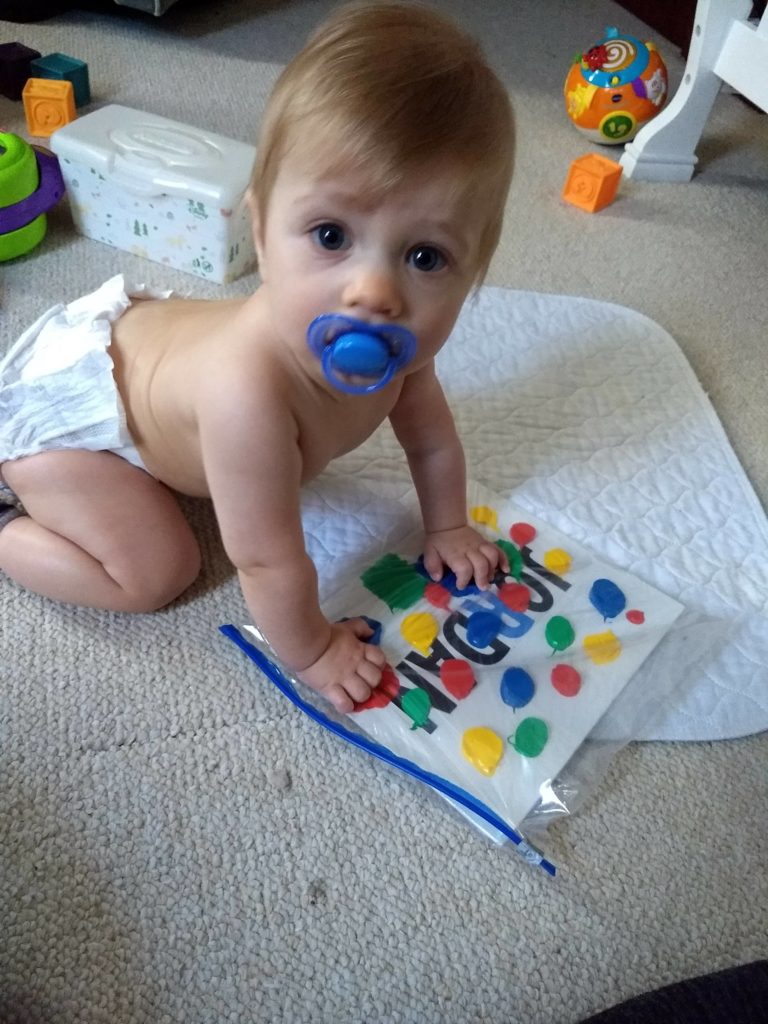 Kiddos don't normally have a huge attention span, so your baby may not finish the painting in one sitting. That's okay! The canvas is sealed in a freezer bag so the paint will stay fresh for hours. Your baby can go back to their work of art throughout the day until it's complete. You can't rush a masterpiece, after all.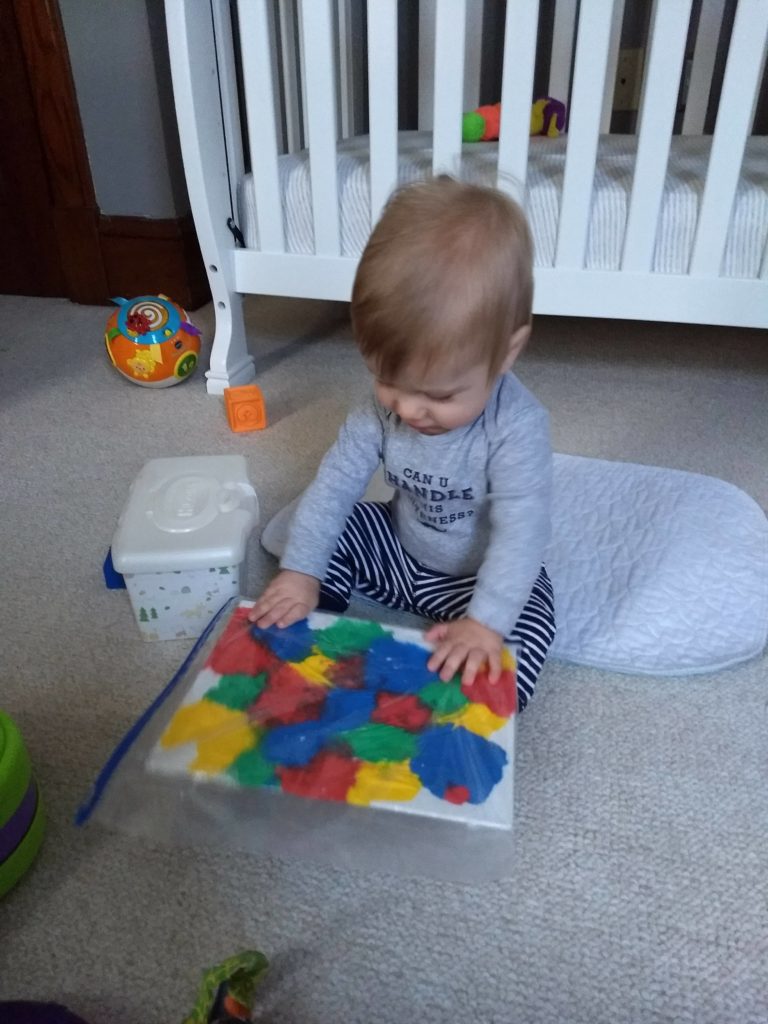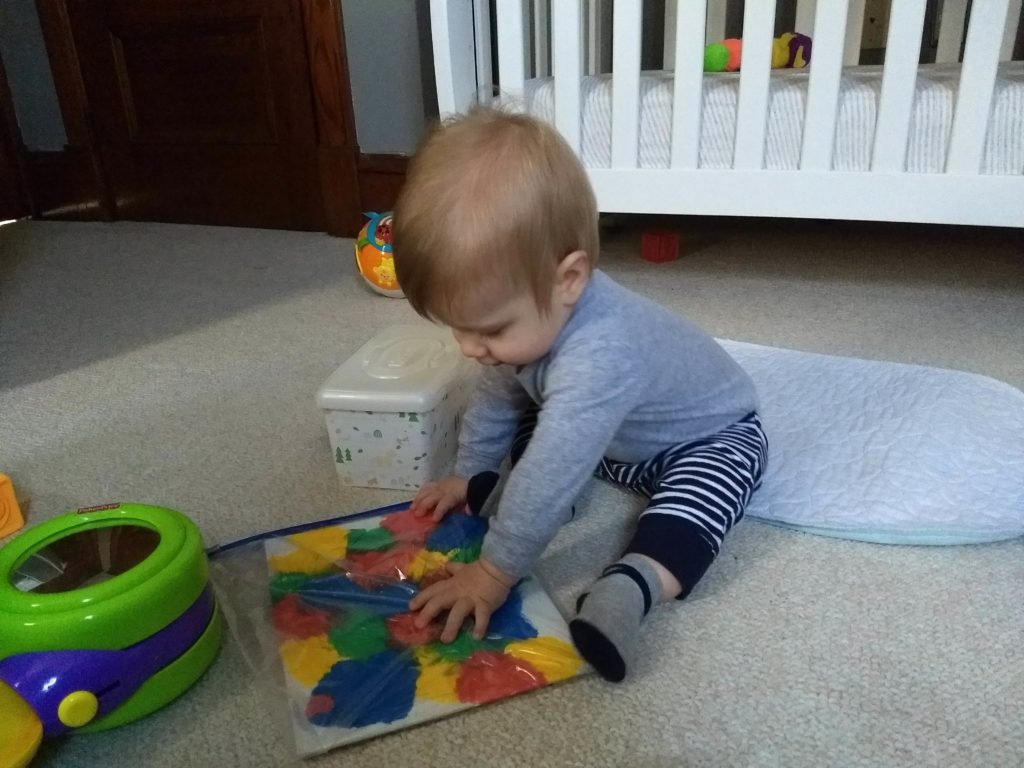 Once your little one is satisfied (or bored) with their painting, you can remove it from the freezer bag, carefully peel off the plastic wrap, and sit it somewhere safe to dry. Depending on how thick your paint is applied it may take anywhere from an hour to overnight to dry.
Once your baby's painting is dry, you can peel off the vinyl letter stickers. If they're tough to remove, try using tweezers to peel up an edge first.
Jordan's painting ended up looking like this when he was finished. He put a lot of muscle into his work, so some of the paint seeped under the stickers. I also was reusing a few of the letter stickers, so you can see the letter "D" moved a bit. I didn't mind though; it gives it a more whimsical feel.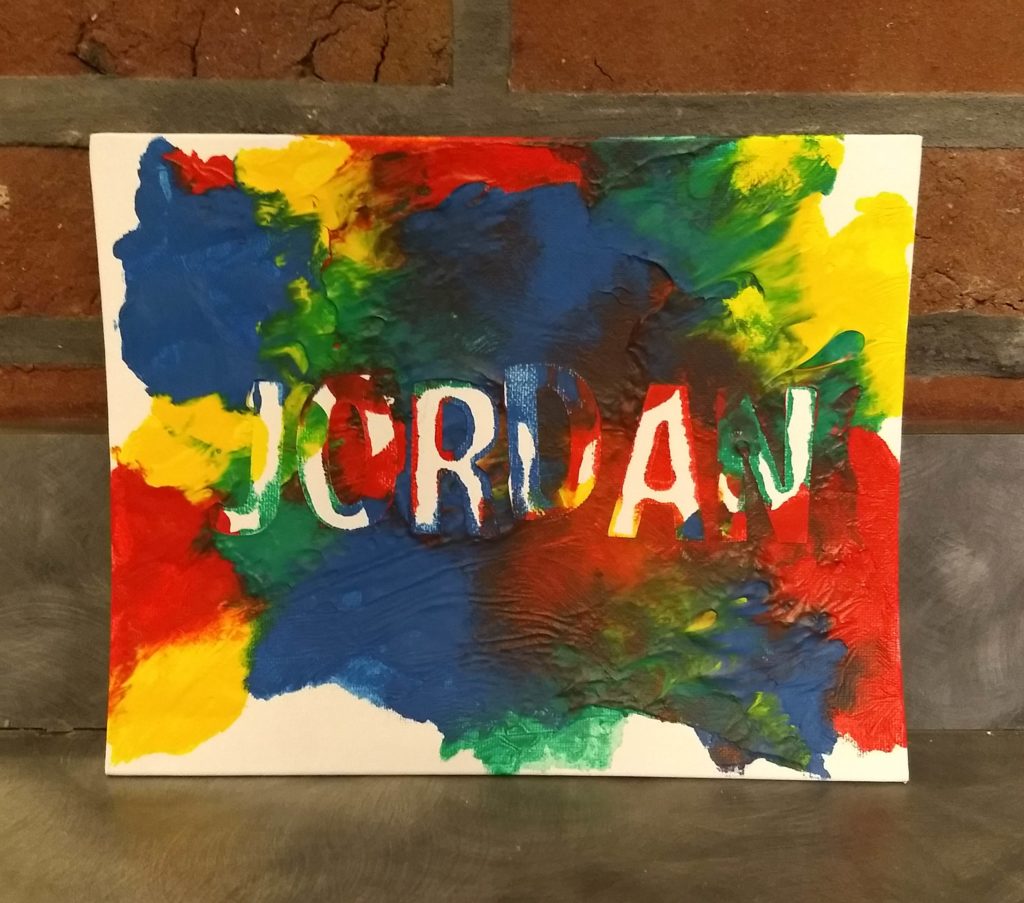 But in order to read his name better, I decided to go in and clean up the letters a bit. I used a small square paint brush and heavy body white acrylic paint to paint over each letter.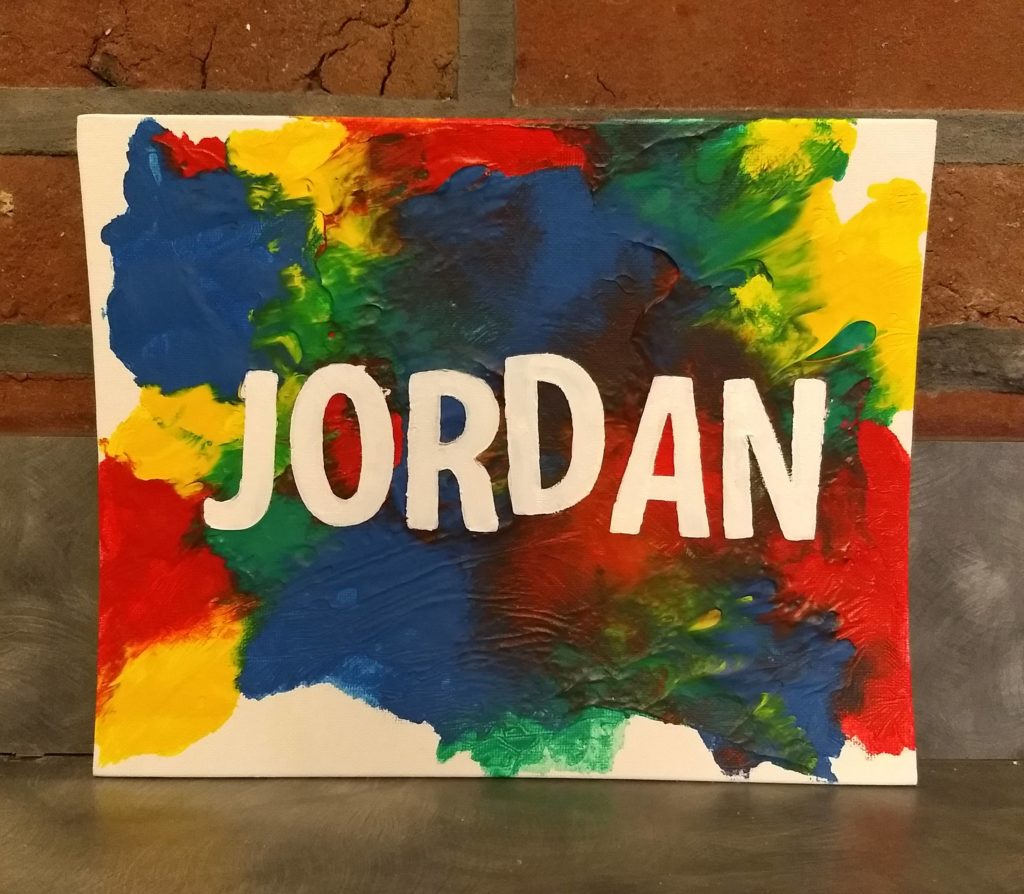 And there you have it! A quick and easy project your baby will love, and a cute addition to LO's nursery decor, or gift for a family member.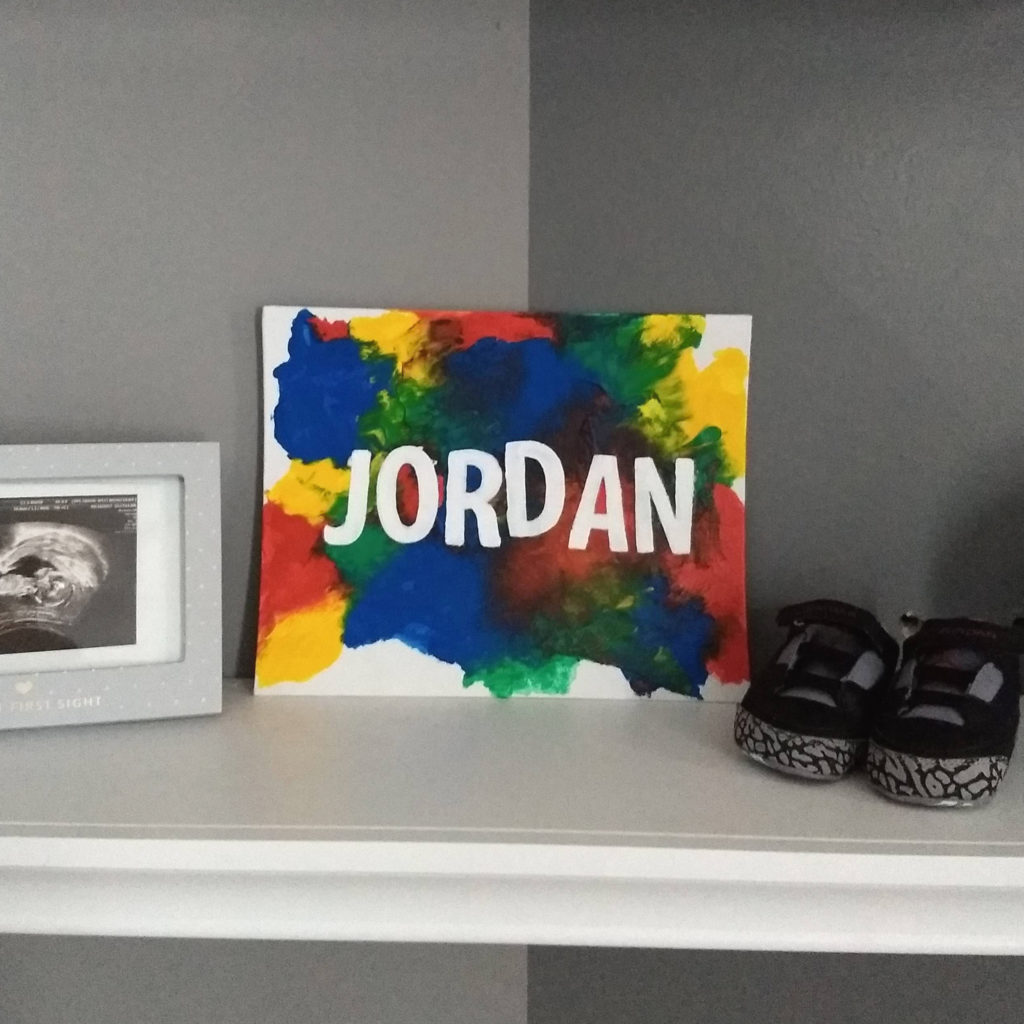 I put Jordan's painting on a shelf in his room and he loves pointing to it and feeling the textures of the dried paint.
Easy, right?! Like it? Tried it? Share with me please! Leave a comment, or post a picture on Instagram and tag me @paintspiration_art! And as always, be sure to follow along for more tutorials, activities, and artwork!